01.04.2019 | original article | Ausgabe 13-14/2019 Open Access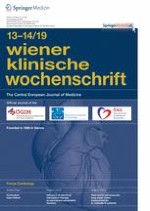 Body mass index and height in 11- to 16-year-old Austrian students attending two different school types with divergent socioeconomic backgrounds
Zeitschrift:
Autoren:

Stefan Riedl, Veronika Riedl-Schlauss, Gabriele Häusler, Andreas Gleiss
Wichtige Hinweise
Publisher's Note
Springer Nature remains neutral with regard to jurisdictional claims in published maps and institutional affiliations.
Abbreviations
AHS
"Allgemeinbildende Höhere Schulen" (secondary academic schools)
BHS
"Berufsbildende Höhere Schulen" (vocational colleges)
BMS
"Berufsbildende Mittlere Schulen" (vocational schools)
BS
"Berufsschulen" (part-time vocational schools)
NMS
"Neue Mittelschulen" (new secondary schools)
PISA
Programme for International Student Assessment
PT
"Polytechnikum" (pre-vocational schools)
Introduction
Overweight and obesity have emerged in developed countries, particularly among people with low education and associated low socioeconomic status (SES) [
1
–
3
]. The obesity pandemic has already impinged on rapidly developing countries such as China as unhealthy eating habits and less active life styles spread out from high SES urban regions. Complex regional differences in overweight/obesity rates between rural and urban communities within developed and developing countries have been observed, with rates closely connected to SES or educational level [
4
–
7
].
Various studies have investigated correlations of height with intelligence quotient (IQ), education and SES. High body mass index (BMI) has been found to be associated with worse grades at school, independent of IQ, leading to a downward spiral encompassing lower education levels, poor future employment prospects, lower income and a continuance of low SES in overweight/obese families [
8
–
10
]. On the other hand, taller height has been associated with higher education levels dependent on IQ, leading to higher career achievements [
11
]. Moreover, taller students have been shown to be regarded as more competent than the shorter counterparts and taller women as better managers [
12
–
14
]. Former studies suggested a genetic linkage through assortative mating [
15
] or interactions between genetic and environmental factors [
16
,
17
] explaining the association between tallness and IQ. A more recent study showed that most of the covariation between height and IQ was genetic in nature, with both pleiotropy and assortative mating contributing equally to this genetic correlation [
18
]. Regarding anthropometry, larger gray matter volumes have been observed in taller people [
19
].
Austria is one of 8 Organisation for Economic Co-operation and Development (OECD) countries where students are separated into groups based on occupational interests early, at the age of 11 years or below [
20
]. Approximately 70% of school choice is considered to be associated with a child's social origins and only 30% with educational performance. Of the students who attend schools beyond the compulsory 9 years, 69% have parents with higher education. Only 8% of students whose parents have no education beyond the compulsory years have the prospect of higher education [
21
]. Since no formal entrance examination is required, parents may influence the choice of school, thus higher parental SES channels students into higher achieving schools. Consequently, the education system in Austria provides the prospect to study the correlation of BMI/height closely related to educational status and familial SES.
In this study, auxological data from adolescents sampled within an Austrian nationwide project (Austrian Working Group on Pediatric Endocrinology and Diabetology, APEDÖ) were studied and the academic level of the school compared with the BMI and height of the students measured. Furthermore, it was investigated whether BMI and height correlated with the population size of the region in which they live.
Subjects and methods
Austrian school system
Most children in Austria attend state schools (97.3%). Education is compulsory for 9 years, comprising 4 years of primary (6–10 years of age) and 5 years of secondary schooling (11–16 years of age). After primary school, children attend new secondary schools ("Neue Mittelschulen"; NMS) or those expected to attain tertiary education attend secondary academic schools ("Allgemeinbildende Höhere Schulen"; AHS). To a considerable extent, parents advised by primary school teachers may choose which of the two levels of school a child should attend based on their expectations for the child. The NMS last 4 years after which students complete their final compulsory year in a prevocational school ("Polytechnikum" ; PT), followed by apprenticeship accompanied by a part-time vocational school ("Berufsschule"; BS), or they switch to a vocational school ("Berufsbildende Mittlere Schule"; BMS). The AHS last 8 years comprising 4 years of lower and 4 years of upper classes and 12 years of education are normally required to take and pass a final examination ("Matura" ). Students also have the possibility after the 8th year to take the "Matura" in vocational colleges ("Berufsbildende Höhere Schulen" ; BHS), which last 5 years (Fig.
1
).
×
Study population
A cross-sectional sample of nearly 15,000 children and adolescents aged 4–19 years representative of children in kindergartens and regular schools in Austria was obtained in a study to establish new growth and weight curves for the Austrian population. Written approval was provided by the Austrian Federal Ministry of Education, Arts and Culture.
Data collection
The same investigator measured 98% of the students using a Harpenden stadiometer (Holtain Ltd., Crymych, UK) and electronic weighing scales (Seca 899, Hamburg, Germany). The results relating to growth, weight and BMI have been published in papers which give details of recruitment and the measuring process [
22
,
23
]. Overweight and obesity werde defined by BMI above the 90th and the 97th percentile, respectively, in accordance with previous studies extrapolating the adult BMI cut-off levels of 25 kg/m
2
(overweight) and 30 kg/m
2
(obesity) to the pediatric age range [
24
,
25
]. The SES background of students was determined based on the highest education and/or employment position attained by the mother/parents according to Vogtenhuber et al. ([
21
], based on [
20
]).
Data management and statistical analysis
Results
Eligible children and adolescents
Among 14,989 children and adolescents aged 4–19 years, 4579 students aged 11–16 years (end of compulsory education) were eligible. The distribution between the sexes was equal (2313 female; 2266 male). Sex-specific distributions according to school type, region and urbanicity are presented in Table
1
.
Table 1
Sex-specific distribution of students stratified by school type, region and urbanicity
VSS

566

643

1209

AHS

1747

1623

3370

West

950

960

1910

South

379

482

861

Easta

594

484

1078

Vienna

390

340

730

<20,000

724

577

1301

20,000–100,000

744

836

1580

>100,000a

455

513

968

Vienna

390

340

730
BMI
The VSS students had higher BMI SDS than AHS students (Fig.
2
a and b). In a model adjusting for geographical region and urbanicity, the mean difference was +0.87 kg/m
2
(
p
 < 0.001) across the whole age range and both sexes. Differences were significantly age-dependent (
p
 < 0.001) lying at or slightly below +1 kg/m
2
between 11 and 15 years and rising to +1.8 kg/m
2
at 16 years in both sexes (Fig.
3
). This translates into a mean difference in weight of approx. +1.8–2.7 kg for an average height, depending on sex and age. Accordingly, a presumptive height of 165 cm and weight of 55 kg (BMI 20.2 kg/m
2
) in a 16-year-old girl at AHS would for example translate into a + 2.4 kg difference in a girl of the same age and height attending a VSS. Comparing regions, there was a significant difference between Vienna and the rest of eastern Austria (
p
 = 0.020) and between Vienna and southern (
p
 < 0.001) and western (
p
 = 0.002) Austria, with higher BMIs ascertained in Vienna. Correlation with urbanicity revealed higher BMIs in Vienna than in large towns >100,000 inhabitants (without Vienna;
p
 < 0.001) and in townships 20,000–100,000 (
p
 = 0.045), but not in rural communities <20,000 inhabitants (Fig.
4
a).
×
×
×
Height
Height SDS were similar between 11 and 13 years in both sexes, before they generally dropped in adolescents attending VSS compared with AHS (Fig.
2
c and d). The mean difference in a model adjusting for geographical region and urbanicity was −0.93 cm (
p
 < 0.001), albeit the school type effect for height did not significantly depend on age (
p
 = 0.873). Therefore, this effect is reported across the whole age range (Fig.
3
). This difference in height accounts only for a minor part (25%) of the difference observed in BMI between AHS and VSS (e. g. in the case of the 16-year-old girl above, 0.93 cm of height reduction would correspond to a BMI increase of only 0.23 kg/sqm), the rest being explained by heavier weight in students attending VSS. No statistically significant differences in height were detectable comparing regions and degree of urbanization (Fig.
4
b).
Short/tall stature, overweight/obesity
Short stature (<−2 SDS, corresponding to percentile 2.3) was more common in students attending VSS (3.0% in females, 4.0% in males) than among those attending AHS (1.9% in females, 1.3% in males). By contrast, tall stature (>2 SDS) was not more frequent in AHS, with VSS girls even exceeding AHS girls (3.4% vs. 2.6%). Overweight >90th percentile (15.5% in females, 14.8% in males) and obesity >97th percentile (6.5% in females, 6.2% in males) were clearly overrepresented in students attending VSS as opposed to AHS (overweight 8.0% in females, 8.7% in males; obesity 2.7% in females, 2.3% in males). Overall, short stature, overweight and obesity were 2.2-fold, 1.8-fold and 2.5-fold (95% confidence intervals 1.5–3.2, 1.5–2.2 and 1.9–3.4), respectively, more frequent in VSS than in AHS students.
Discussion
The findings of this study suggest that the Austrian "education inheritance" corresponding to socioeconomic indicators is reflected in differences in BMI and height between students according to the academic level of the schools they attend.
In summary, the present study revealed statistically significant correlations between BMI and height of students and the school type attended, reflecting their parent's SES and educational level. This study pinpoints the auxological effects of an education inheritance in Austria and possibly other countries with similar school systems, perpetuating socioeconomic inequalities with long-term consequences on morbidity in later life. These results support the need to work on equality of opportunity by overcoming students' early SES-based grouping between school types. Meanwhile, obesity prevention and intervention measures should be reinforced, not only in large cities but also in rural communities.
Acknowledgements
The authors are grateful to Elise Langdon-Neuner for expert support in helping to draft the manuscript. The study was supported by an educational grant from Ferring Arzneimittel GmbH Austria. The sponsor had no involvement in the study design, data collection, analysis/interpretation of results, writing/editing of the article or submission decision.
Compliance with ethical guidelines
Conflict of interest
S. Riedl, V. Riedl-Schlauss, G. Häusler, and A. Gleiss declare that they have no competing interests.
Ethical standards
For this type of study (subanalysis of a dataset from a preceding study) formal consent is not required.
Open Access
This article is distributed under the terms of the Creative Commons Attribution 4.0 International License (
http://​creativecommons.​org/​licenses/​by/​4.​0/​
), which permits unrestricted use, distribution, and reproduction in any medium, provided you give appropriate credit to the original author(s) and the source, provide a link to the Creative Commons license, and indicate if changes were made.
Publisher's Note
Springer Nature remains neutral with regard to jurisdictional claims in published maps and institutional affiliations.