17.01.2019 | original article | Ausgabe 3-4/2019 Open Access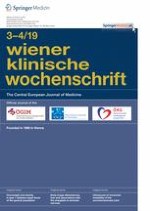 Body image disturbances, fear and associations with the amygdala in anorexia nervosa
Zeitschrift:
Autoren:

Nathalie T. Burkert, Karl Koschutnig, Franz Ebner, Wolfgang Freidl
Wichtige Hinweise
Parts of this study has been previously published as part of my dissertation: Burkert NT (2015) Psychological and neurobiological aspects of eating disorders: brain activity as a response to different taste stimuli in patients suffering from anorexia nervosa compared to healthy controls. Medical University Graz.
Summary
Background
Anorexia nervosa (AN) is a severe illness with a high mortality rate which mainly affects young women. Studies found a localized volume loss of the amygdala in patients with AN, a brain region responsible for affective responses. Patients with AN were found to have body image distortions, and suffer from the comorbid disorders depression, anxiety disorder, and obsession. Therefore, the purpose of this study was to analyze a possible connection between comorbidities, body image disturbances, and the volume of the amygdala in patients with AN.
Methods
In this study 21 females suffering from restrictive-type AN and 21 age-matched normal controls (NC) were tested. Demographic data as well as body image perceptions and comorbidities were assessed. Volumes of cortical structures were measured with a magnetic resonance (MR) scanner. Analyses of variance were conducted to analyze group differences, and correlations between the volume of the amygdala and comorbidities and body image perceptions were calculated.
Results
The results showed a significantly lower grey matter volume in the amygdala in AN patients compared to the NC. Persons with AN showed more body image disturbances and suffered more often from depression, and phobias than NC. The volume of the amygdala showed a non-significant mid-level association with phobia and with uncertainty concerning their body in AN patients.
Conclusion
The study indicates that phobic anxiety and body image in patients with AN could be related to the volume of the amygdala. The results contribute to a better understanding of the pathophysiology of the disease.