19.11.2020 | original article | Ausgabe 1-2/2021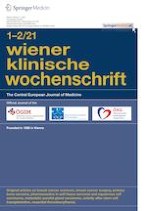 Austrian recommendations for the management of essential thrombocythemia
Zeitschrift:
Autoren:

Veronika Buxhofer-Ausch, Sonja Heibl, Thamer Sliwa, Christine Beham-Schmid, Dominik Wolf, Klaus Geissler, Maria Theresa Krauth, Peter Krippl, Andreas Petzer, Albert Wölfler, Thomas Melchardt, Heinz Gisslinger
Wichtige Hinweise
Publisher's Note
Springer Nature remains neutral with regard to jurisdictional claims in published maps and institutional affiliations.
Summary
According to the World Health Organization (WHO) classification, essential (primary) thrombocythemia (ET) is one of several Bcr-Abl negative chronic myeloproliferative neoplasms (MPN). The classical term MPN covers the subcategories of MPN: ET, polycythemia vera (PV), primary myelofibrosis (PMF), and prefibrotic PMF (pPMF). ET is marked by clonal proliferation of hematopoietic stem cells, leading to a chronic overproduction of platelets. At the molecular level a JAK2 (Janus Kinase 2), calreticulin, or MPL mutation is found in the majority of patients. Typical ongoing complications of the disease include thrombosis and hemorrhage. Primary and secondary prevention of these complications can be achieved with platelet function inhibitors and various cytoreductive drugs including anagrelide, hydroxyurea and interferon. After a long follow up, in a minority of ET patients the disease transforms into post-ET myelofibrosis or secondary leukemia. Overall, life expectancy with ET is only slightly decreased.