01.06.2016 | original report | Ausgabe 2/2016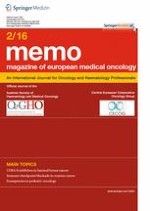 Association of TP53 mutations with TP53 codon 72 polymorphism and outcome in triple-negative breast cancer
Zeitschrift:
Autoren:

Mathilde Foedermayr, Miriam Sebesta, Margaretha Rudas, Anna S. Berghoff, Regina Promberger, Matthias Preusser, Peter Dubsky, Michael Gnant, Guenther G. Steger, Ansgar Weltermann, Christoph C. Zielinski, Otto Zach, Rupert Bartsch
Abstract
Despite recent improvements, triple-negative breast cancer (TNBC) remains a breast cancer subtype with poor prognosis.
TP53
mutations are commonly associated with TNBC, suggesting a role in breast cancer carcinogenesis. In addition to mutations, several reports focused on
TP53
polymorphisms and their association with breast cancer risk and outcome.
TP53
codon Pro72Arg polymorphism may predict response to anti-cancer therapy as Pro72 is apparently less effective in the induction of apoptosis.
Here, we investigated a potential association of
TP53
mutations with
TP53
codon 72 polymorphism and clinical outcome in a homogeneous cohort of TNBC patients.
DNA isolated from formalin-fixed paraffin-embedded tissue of 35 consecutive TNBC patients was investigated for
TP53
mutation and
TP53
codon 72 polymorphic status by Sanger sequencing.
The kind of
TP53
mutations were associated with particular polymorphic Pro72Arg genotypes. Frameshift mutations were significantly correlated with Pro/Pro carriers, nonsense mutations showed a trend for Pro/Arg carriers. Despite this observation no association with clinical outcome was observed.
Further studies with larger and more homogeneous cohorts are warranted in order to elucidate a potential association of
TP53
Pro72Arg polymorphism and particular
TP53
mutations with TNBC carcinogenesis and outcome.