01.08.2016 | case report | Ausgabe 15-16/2016 Open Access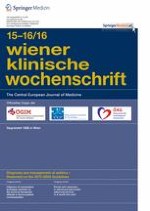 Association of cytomegalovirus infection with hypertension risk: a meta-analysis
Zeitschrift:
Autoren:

Jing Hui, Yuan-yuan Qu, Na Tang, Yong-min Liu, Hua Zhong, La-mei Wang, Qian Feng, Zhen Li, Fang He
Wichtige Hinweise
Jing Hui and Yuan-yuan Qu contribute equally to this work.
Background
Essential hypertension (EH) is the most common form of hypertension [
1
] and is a major risk factor for cardiovascular, cerebrovascular, and renal diseases. Hypertension is a multifactorial disease [
2
], and its development involves both genetic and environmental factors; however, the specific mechanism and risk factors remain unclear.
As a member of the human
Herpesviridae
family, cytomegalovirus (CMV) contains double-stranded DNA [
3
] and establishes a latent infection that can persist for the lifetime of the host. Despite being nearly ubiquitous in the population [
4
], overt human CMV disease in adults is typically restricted to immunocompromised individuals [
5
–
7
]. In healthy individuals, both primary infection and the reactivation of latent virus rarely cause any significant clinical symptoms owing to the robust immune response of the host.
CMV infection is associated with various chronic inflammatory diseases, including cardiovascular diseases (CVDs) [
8
] such as myocarditis, atherosclerosis, and coronary artery disease [
9
–
11
]. Hypertension is an important cause of CVDs, and recent studies [
12
–
18
] have shown that patients with a CMV infection have an increased risk of EH; however, the association between CMV and EH remains unclear, and thus the effect of CMV infection on blood pressure is controversial. Therefore, we performed the present meta-analysis to more comprehensively investigate the association between CMV and EH.
Materials and methods
Literature search and selection
We comprehensively searched the PubMed and Embase databases up to July 2015. The search key words used included "EH or hypertension", "blood pressure", and "CMV". Relevant articles in the reference lists of the published literature were also searched manually for other potential studies.
Inclusion and exclusion criteria
Studies were included in the meta-analysis if they met the following criteria (1) case-control study, (2) investigated the positive rate of CMV in hypertension patients and controls, (3) hypertension is defined as systolic blood pressure (SBP) or diastolic blood pressure (DBP) of 140 or 90 mmHg, respectively, (4) not an animal study. Studies were excluded if insufficient details were reported to be able to perform the meta-analysis.
Data extraction
Two authors (JH and Y-YQ) extracted the data independently. In cases where any data were lacking from an article, the authors of selected studies were contacted directly for the missing data. The two reviewers came to an agreement before the final analysis. The following information was extracted from each study: first author's name, year of publication, country, ethnicity, CMV detection method, patient characteristics, the sample sizes of cases and controls, and the relationship between CMV and EH.
Statistical analysis
We performed statistical analyses using Stata statistical software ver.12.0. (Stata Corporation, College Station, TX, USA). Meta-analysis was conducted by combining odds ratios (ORs) with corresponding 95 % confidence intervals (CIs) for the association between the CMV-positive rate of hypertension patients and controls. Heterogeneity across all selected studies was evaluated using the Q-test and the I
2
statistic (range 0–100 %) [
19
] and was judged to be significant when
P
 < 0.1 or I
2
 > 50 %, respectively. We select the random-effects model in the analysis if significant heterogeneity was observed across studies; otherwise, the fixed-effects model was used. Sensitivity analysis was performed with the random-effects model to evaluate the stability of the crude results by removing one study at a time. The Begg's funnel plot and Egger's linear regression test were performed to determine the level of potential publication bias [
20
,
21
]. A
P
-value lower than 0.05 was considered statistically significant.
Results
Discussion
The results of the present meta-analysis suggest that CMV may be a contributing factor to the development of EH. However, there are limitations to the meta-analysis that should be acknowledged. First, although the pooled sample size of the studies included was sufficiently large to carry out the meta-analysis, the number of studies included is not as large as we had hoped for in order to perform a comprehensive analysis. In particular, this limited our ability to conduct a subgroup analysis to explore the influence of sample size, ethnicity, age, or other factors and to explore the nature of the observed heterogeneity. Therefore, these findings should be interpreted with caution, and more studies are needed to confirm the results of this meta-analysis.
Conclusions
The results showed a significant association between CMV and EH, which indicates that CMV infection is a possible cause of EH.
Source of support
This project was supported by the Joint Funds of the National Natural Science Foundation of China (No.U1403123) and the Ministry of Major Science & Technology of Shihezi University (Nos.gxjs2013-zdgg04, gxjs2013-zdgg04-1, gxjs2013-zdgg04-2, gxjs2013-zdgg04-3, and gxjs2013-zdgg04-4) and the Xinjiang Graduate Student Research Innovation Project (No. XJGRI2015054). No conflict of interest exists in this study.
Compliance with ethical standards
Conflicts of interest
J. Hui, Y.-y. Qu, N. Tang, Y.-m. Liu, H. Zhong, L.-m. Wang, Q. Feng, Z. Li, and F. He declare that there are no actual or potential conflicts of interest in relation to this article.
Open Access
This article is distributed under the terms of the Creative Commons Attribution License which permits any use, distribution, and reproduction in any medium, provided the original author(s) and the source are credited.