01.09.2015 | short review | Ausgabe 3/2015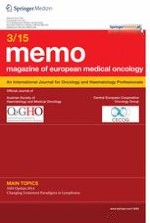 ASH 2014 highlights: new therapeutic concepts for T cell lymphomas
Zeitschrift:
Autor:

MD, PhD A.Prof. Philipp Staber
Abstract
The Annual Meeting of the American Society of Hematology (ASH) 2014 has highlighted a number of spectacular advances of the past couple of years for T cell lymphomas. These lymphomas are probably the most challenging of all types of hematologic malignancies: First, patients usually present in a very ill condition and in a very advanced stage of disease; second, they do not respond well to chemotherapy; and third, T cell lymphomas are rare diseases. They account for only 15 % of all cases of non-Hodgkin lymphomas and with more than 15 subtypes any subtype is very rare [
1
]. Therefore, it requires joint forces of an international community to make advances in the understanding of the disease and to identify new treatment approaches. Another reason why the prognosis of T cell lymphomas has been dismal compared with its counterparts in B cell lymphomas is that historically we have applied the therapies from B cell lymphomas to T cell lymphomas. With the advances of large international preclinical studies, we now recognize that the paradigms we learned for B cell lymphomas are inappropriate for T cell lymphomas. An evolving basic science literature suggests that T cell lymphomas are highly enriched for various mutations involving epigenetic operations [
2
-
5
]. This might explain why T cell lymphomas are so uniquely poised to be sensitive to the class of epigenetic drugs such as histone deacetylase inhibitors.