02.08.2017 | short review | Ausgabe 4/2017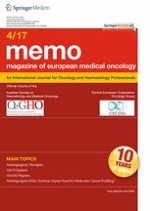 ASCO update – what is new in the systemic treatment of advanced soft tissue sarcomas?
Zeitschrift:
Autor:

MD Joanna Szkandera
Summary
Soft tissue sarcomas (STS) are a rare and heterogeneous group of malignant tumors that substantially differ in the underlying biology, natural course and treatment response. In locally advanced or metastatic disease, systemic treatment represents the main therapeutic approach. Anthracycline-based chemotherapy and its combination with ifosfamide has been used as the gold standard in the first-line treatment of advanced disease for decades; however, as increasing evidence favors the use of histology-tailored therapy, novel cytotoxic agents and targeted therapies are currently under intense investigation. Additionally, immunotherapeutic agents have been explored in several STS studies, showing promising results in specific histological subtypes. This article provides a brief overview of the standard systemic treatment options in advanced STS and a summary of the highlights of the STS trials presented at the American Society of Clinical Oncology (ASCO) annual meeting 2017.