20.11.2018 | short review | Ausgabe 4/2018 Open Access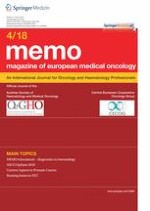 ASCO 2018 highlights: metastatic breast cancer
Zeitschrift:
Autoren:

Gabriel Rinnerthaler, Simon Peter Gampenrieder, MD Richard Greil
Wichtige Hinweise
Authors' Contributions
Conception and design: G. Rinnerthaler. Collection and assembly of data: G. Rinnerthaler. Data analysis and interpretation: All authors. Manuscript writing: G. Rinnerthaler and S.P. Gampenrieder. Critical revising of the manuscript: S.P. Gampenrieder, R. Greil. Final approval of manuscript: All authors
Summary
This article reviews the clinically most relevant presentations at the American Society of Clinical Oncology (ASCO) annual meeting 2018 on the topic of metastatic breast cancer. In the randomized placebo-controlled phase 3 trial MONALEESA-3, testing ribociclib vs. placebo in combination with fulvestrant in postmenopausal women or men with hormone receptor-positive (HR+) and HER2-negative (HER2−) advanced breast cancer (ABC), an increase of median progression-free survival (PFS) from 12.8 months to 20.5 months by the addition of the CDK4/6 inhibitor was reported (HR 0.59;
P
 > 0.01). Taselisib, an alpha specific PI3K inhibitor, was tested in combination with fulvestrant in pretreated HR+/HER2− ABC patients with PIK3CA mutations in the placebo-controlled phase 3 trial SANDPIPER. PFS was significantly longer (7.4 months vs 5.4 months; HR 0.70,
P
 < 0.01) but severe adverse events were more frequent (32% and 9%) in the taselisib group. In triple-negative breast cancer, the AKT inhibitor capivasertib (AZD5363) was combined with paclitaxel as first-line treatment in the placebo-controlled phase 2 trial PAKT. In patients with altered PIK3CA, AKT1 or PTEN, median PFS increased from 3.7 months to 9.3 months (HR 0.30; two-sided
P
 = 0.01). No treatment effect was shown in the non-altered group. The most common adverse events attributed to capivasertib were diarrhea, fatigue and stomatitis. Results of two phase I trials of trastuzumab antibody-drug conjugates (ADCs) indicated HER2 as a non-oncogenic surface target in breast cancer patients expressing HER2.