13.11.2017 | review | Ausgabe 4/2017 Open Access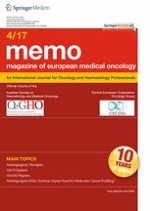 ASCO 2017: highlights in breast cancer
Zeitschrift:
Autoren:

Rupert Bartsch, Elisabeth Bergen
Summary
At the 2017 ASCO Annual Meeting, several pertinent studies in the field of breast cancer were presented and some are deemed as being potentially practice changing. BrighTNess was the first phase III study to investigate the addition of carboplatin to standard neoadjuvant chemotherapy in triple-negative breast cancer; while toxicity was increased in the experimental group, a significantly higher pathologic complete remission (pCR) rate was observed as well suggesting that adding carboplatin to neoadjuvant anthracycline, cyclophosphamide and taxane-containing regimens is efficacious in otherwise healthy patients. In metastatic breast cancer patients harbouring
BRCA
germ-line mutations, the PARP(poly [ADP-ribose] polymerase)-inhibitor olaparib was superior to conventional chemotherapy defining a potential novel treatment standard in this high-risk population. In the adjuvant setting, the APHINITY trial compared dual HER2-directed antibody therapy with trastuzumab plus pertuzumab to trastuzumab alone. A small benefit in favour of the combination was observed which was more pronounced in node-positive subjects. In hormone-receptor positive metastatic disease, several studies evaluating the role of CDK4/6 (cyclin-dependendent kinases 4 and 6) inhibitors were presented with data again indicating that adding CDK4/6 inhibitors to endocrine therapy results in a clinically relevant prolongation of progression-free survival.