01.12.2016 | review | Ausgabe 4/2016 Open Access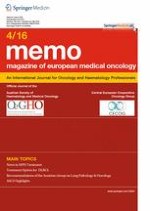 ASCO 2016: highlights in breast cancer
Zeitschrift:
Autoren:

MD Rupert Bartsch, Elisabeth Bergen
Summary
At the 2016 ASCO Annual Meeting, several pertinent studies in the field of breast cancer were presented. MA17.R was the first randomized phase III trial to evaluate the prolongation of adjuvant aromatase-inhibitor (AI) therapy from 5 to 10 years; while a significant reduction of disease-free survival events was observed in the extended treatment group, the absolute difference was relatively small and longer endocrine therapy resulted in a higher fracture rate. A combined analysis of three North American trials emphasized the superiority of anthracycline containing adjuvant chemotherapy regimens compared with docetaxel/cyclophosphamide (TC), while the PANTHER trial investigated dose-dense tailored adjuvant treatment. In metastatic breast cancer, the main interest was on cyclin-dependent kinase (CDK) 4/6 inhibitors. In PALOMA-2, the addition of palbociclib to letrozole prolonged progression-free survival (PFS) from 14.5 to 24.8 months resulting in the longest PFS data ever reported in the first-line setting. A subgroup analysis of premenopausal patients accrued to PALOMA-3 indicated that in this patient subset, ovarian function suppression plus fulvestrant and palbociclib yielded results comparable to the postmenopausal population.
ESR1
mutations were another focus of interest as these activating mutations in the gene coding for the estrogen receptor alpha apparently evolve under the selection pressure of AI therapy.