01.12.2013 | short review | Ausgabe 4/2013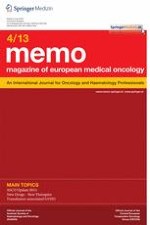 ASCO 2013—treatment of metastatic melanoma: is it still a story of success?
Zeitschrift:
Autor:

MD ao. Univ.-Prof. Dr. Georg Weinlich
Abstract
'There is a light at the end of the tunnel in the treatment of metastatic melanoma' was the slogan of enthusiastic dermatologists around the world in 2010, when two new substances were approved by the Food and Drug Association in the United States and later on, the European Medicines Agency in Europe. Ipilimumab (Yervoy®) is a fully human monoclonal antibody targeting cytotoxic T-lymphocyte antigen-4, which switches off the mechanism of immune suppression and enables continuous, unrestrained stimulation of T-cells by dendritic cells. The objective response rates are only 10–15 %, but most of them are long lasting. The second approved substance is vemurafenib (Zelboraf®), a selective BRAF inhibitor. BRAF is a member of the Raf family, which is part of the Ras/Raf/MEK/ERK mitogen-activated protein kinase (MAPK) signalling pathway. Approximately 40–60 % of cutaneous melanomas carry mutations in BRAF that lead to constitutive activation of downstream signalling through the MAPK pathway. However, the duration of response has been limited, as resistance to BRAF inhibitors develops within months after initiation of treatment. So in 2013 the question arises, whether the story of success in the treatment of metastatic melanoma is prolonged and whether there are some new promising substances in the treatment pipeline. At American Society of Clinical Oncology 2013, actual data of studies with other immune checkpoint molecules, such as programmed death-1 antibodies or antibodies against its ligand programmed death ligand 1, were presented, as well as data from downstream molecules of the MAPK pathway (e.g. MEK inhibitors). The most promising response rates, however, can be observed by combining these new substances.