01.12.2013 | short review | Ausgabe 4/2013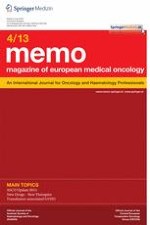 ASCO 2013: news in early-stage and advanced breast cancer
Zeitschrift:
Autoren:

Günther G. Steger, Rupert Bartsch
Abstract
Recent advances in the field of systemic treatment resulted in a significant decline of overall breast cancer mortality. Numerous important issues, however, remain unresolved. Among others, the optimal duration and sequence of endocrine therapy in the adjuvant setting are much debated. Furthermore, the advance of novel targeted treatment options in human epidermal growth factor receptor 2-positive and hormone-receptor-positive breast cancers resulted in an urgent need for establishing reliable predictive markers. Finally, in triple-negative breast cancer, there are currently no specific biologically targeted therapies available.
At the 2013 American Society of Clinical Oncology's Annual Meeting, a number of studies were presented providing novel insights in several of those fields of research. This article reviews potentially relevant abstracts and aims to set the data into the context of current knowledge.