01.12.2013 | original article | Ausgabe 23-24/2013 Open Access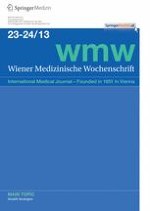 Are there differences in LDL-C target value attainment in Austrian federal states? Yes!
Zeitschrift:
Autoren:

Univ. Prof. Dr. Max Pichler, MS Dr. Dominik Lautsch, MS, MBA Dr. Claudia Adler, MBA DDr. Karl Bögl, o.Univ. Prof. Dr. Dr. h.c. Heinz Drexel, Univ. Prof. Dr. Bernd Eber, MS Christiane Fauer, Dr. Johannes Föchterle, Univ. Doz. Dr. Bernhard Föger, Karin Gansch, Dr. Peter Grafinger, Univ. Prof. Dr. Monika Lechleitner, Univ. Prof. Dr. Bernhard Ludvik, o.Univ. Prof. Dr. Gerald Maurer, Dr. Reinhard Mörz, Univ. Doz. Dr. Bernhard Paulweber, Univ. Prof. DI. Dr. Karl Peter Pfeiffer, Univ. Prof. Dr. Rudolf Prager, Univ. Prof. Dr. Gerhard Stark, Univ. Prof. Dr. Hermann Toplak, Univ. Doz. Dr. Otto Traindl, Univ. Doz. Dr. Raimund Weitgasser
Wichtige Hinweise
The Austrian cholesterol screening and treatment II (ACT II)study group.
Summary
Low density lipoprotein (LDL-C) levels determine the cardiovascular risk. Previous studies indicated an LDL-C target attainment of around 50 %, but no Austrian wide analysis on results for the federal states was available. We therefore sought to detect potential differences.
Design: Open-label, non-interventional, longitudinal study, registered:
www.​clinicaltrials.​gov
NCT 01381679. In all, 746 statin treated patients not at LDL-C goal received intensified therapy for 12 months. The sample was split into nine subgroups, representing the federal states of Austria.
We detected an east-west gradient for baseline LDL-C. Individual target values were achieved by 37.2 % (range: 26.1–57.7 %). After 12 months, LDL-C < 70 mg/l was achieved by 13.5 % (5.9–38.5 %). Univariate ANCOVA retrieved significant differences within the states (Upper Austria and Salzburg,
p
 = 0.001 and
p
 = 0.0015, respectively). Furthermore, the capacity of intensified lipid lowering therapy applied in practice was as high as −42 % as compared to previous standard therapy (additional LDL-C reduction after switch from baseline therapy in Vorarlberg).