02.03.2018 | original report | Ausgabe 2/2018 Open Access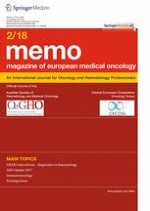 APPLY: A prospective observational study of clinical practice patterns of darbepoetin alfa use in patients with chemotherapy-induced anemia in Romania
Zeitschrift:
Autoren:

Nicoleta Mariana Berbec, Dana Lucia Stanculeanu, Nicoleta Sorina Badelita, Mariana Vasilica, Dorel Ionel Popovici, Andrei Colita, Cristina Neacsu, Alexandru Iordan
Wichtige Hinweise
Electronic supplementary material
Author contribution statement
According to the definition given by the International Committee of Medical Journal Editors (ICMJE), all authors listed above qualify for authorship based on making one or more of the substantial contributions to the intellectual content of: (i) Conception and design; (ii) Analysis and interpretation of data; (iii) Participation in drafting of the manuscript; (iv) Critical revision of the manuscript for important intellectual content. Nicoleta Mariana Berbec and Dana Lucia Stanculeanu contributed equally to the manuscript.
Summary
Purpose
The primary objective of this study was to evaluate the compliance of Romanian physicians with the national therapeutic protocol and international guidelines on treatment with erythropoiesis-stimulating agents in anemic cancer patients receiving chemotherapy. The secondary objective was to assess the hemoglobin (Hb) level change due to anemia treatment and safety of darbepoetin alfa.
Methods
This was a single-arm, prospective, longitudinal, multicenter, observational study in patients with nonmyeloid malignancies and symptomatic chemotherapy-induced anemia treated concomitantly with darbepoetin alfa. Patients were followed for the duration of chemotherapy, but no shorter than three and no longer than eight cycles, irrespective of their exposure to darbepoetin alfa.
Results
In this study, 497 patients with a mean age of 60.6 years were analyzed. Most patients (80.7%) were initiated on darbepoetin alfa at a Hb of 9–11 g/dL, congruent with recommendations. The median Hb increased by 0.9 g/dL between baseline and week 12. Hb target achievement was higher among patients treated according to guidelines than those initiated at Hb < 9 g/dL. A similar trend was observed for red blood cell transfusion requirements. No new safety signals were reported for darbepoetin alfa.
Conclusions
The majority of patients were treated according to national and international recommendations. Guideline adherence was associated with more frequent achievement of Hb targets and lower red blood cell transfusion requirements compared with patients starting anemia treatment with darbepoetin alfa at lower-than-recommended Hb levels.