01.08.2013 | Original Article | Ausgabe 4/2013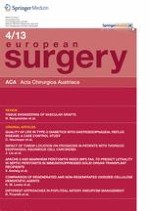 APACHE II and Mannheim Peritonitis Index (MPI) fail to predict lethality in septic peritonitis in immunosuppressed solid organ transplant recipients
Zeitschrift:
Autoren:

MD V. Assfalg, MD D. Reim, MD E. Matevossian, MD B. Holzmann, MD K. L. Emmanuel, MD A. Novotny, MD N. Hüser
Wichtige Hinweise
A. N. and N.H. contributed equally to this work
Summary
Background
We investigated the applicability of both Acute Physiology And Chronic Health Evaluation II (APACHE II) and Mannheim Peritonitis Index (MPI) in transplant recipients with intestinal perforation as polymicrobial peritonitis is highly life-threatening in patients with impaired immunological defence and the course of abdominal sepsis is aberrant compared to non-immunosuppressed individuals.
Methods
In a retrospective database analysis, we validated the consistency of APACHE II and MPI in death prediction in septic peritonitis. In a matched-pair analysis we then investigated their applicability in immunosuppressed transplant recipients. The validation of the scores was performed with 125 non-immunosuppressed patients. In a matched-pair analysis 16 immunosuppressed transplant recipients were compared with 32 controls.
Results
In accordance with clinical observations, statistical analyses revealed significantly higher MPI scores in immunosuppressed transplant recipients (
P
= 0.0007), whereas APACHE II scores were comparable. Linear regression analysis revealed that predicted death rates derived from APACHE II and MPI differ significantly (
P
= 0.0344) in immunosuppressed transplant recipients compared to controls.
Conclusions
Both scores consistently serve as reliable tools for prediction of lethality in septic peritonitis but they fail in immunosuppressed organ recipients. Our findings clearly confirm that in immunosuppressed patients severe peritonitis might be present despite an a- or oligosymptomatic clinical course.