04.12.2017 | review | Ausgabe 4/2017 Open Access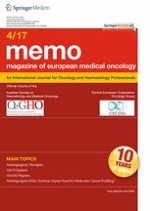 Antiangiogenic therapies in urogenital malignancies
Fiction or fact?
Zeitschrift:
Autoren:

Friederike Haidl, David Pfister, Axel Heidenreich, Isabel Heidegger
Introduction
Tumor angiogenesis plays an important role in cancer growth and metastatic dissemination. Diffusion suffices to supply nutrients and oxygen in tumors up to 3 mm in diameter [
1
], while survival and growth of tumors beyond this dimension depend on the new formation of a sufficient vessel network, primarily by angiogenesis [
2
]. In general, angiogenesis is mainly regulated by the interaction of pro- and antiangiogenic factors such as vascular endothelial growth factor (VEGF). The inhibition of these factors is undoubtedly an attractive target for anticancer therapy successfully used as standard treatment options in several cancer entities including lung or colorectal cancer.
Concerning the uro-oncological field, antiangiogenic therapeutic strategies are clinically established only in metastatic renal cell cancer (mRCC). In general, most of the antiangiogenic agents used in mRCC are inhibitors of the VEGF pathway and their use has become an integral part of therapy for patients with mRCC also recommended as first line-treatment in the Europan Urology Association (EAU) guidelines [
3
].
However, besides RCC, preclinical and early clinical studies have also demonstrated that angiogenesis exerts an important therapeutic role in other urological malignancies including prostate-, bladder-, testicular-, as well as penile cancer [
6
,
8
,
10
,
14
].
This review focuses on recent research findings about the role of antiangiogenic agents in the treatment of genitourinary cancers except mRCC with a special focus on recent findings presented at this year's urooncological (GU ASCO, ASCO, ESMO and EAU) meetings.
Penile cancer
Since the use of antiangiogenic agents has been considered to treat patients with mRCC, it is assumed that antiangiogenic therapy could also be effective in patients with penile cancer as it is also a highly vascularized tumor entity. However, as penile cancer is a rare disease with an incidence of <1/100,000 males in Europe and the USA, to our best knowledge currently no trial is investigating the impact of antiangiogenic agents in penile cancer [
4
].
However, based on the observation that the EGF receptor (EGFR) is almost invariably expressed in penile cancer [
5
] Necchi et al. investigated the efficacy of dacomitinib, a tyrosine kinase inhibitor (TKI) of human EGFR in patients with advanced or metastatic penile squamous cell carcinoma in a single arm phase 2 study (NCT01728233) [
6
]. In this study 26 patients with squamous cell histology, and clinical stage N2–3 or M1 disease received daily 45 mg dacomitinib. Preliminary data presented at the GU ASCO meeting revealed that 1/26 patients achieved complete remission while 7/26 had a partial remission (overall response rate [ORR] = 30,4%, 95% credibility interval 14.9–48.6%) under daily oral application of 45 mg dacomitinib. The 12-month progression-free survival (PFS) was 24.1% (95% CI: 11.1–52.3) and the 12 month overall survival (OS) was 50.7%. Mutations were found in 47% of non-responders compared to 25% of responders, among them TERT mutations (60%) were found in responders only while HRAS and BRAF mutations were found in non-responders (20%). Final results of the study are not published yet, but are expected this year [
6
].
Prostate cancer
To summarize, these findings suggest that adding antiangiogenic agents to docetaxel and prednisone in men with mCRPC has no clinical benefit.
Testicular cancer
Urothelial cancer
Conclusion
Currently there are no antiangiogenic agents approved for treatment in genitourinary cancers except mRCC. However, current research suggests that antiangiogenic therapies represent a good and useful addition to conventional oncological treatment options at least in patients where no standard therapeutic options are any more avaiable; therefore, larger multicenter phase III studies are of need to confirm these findings.
Conflict of interest
F. Haidl, D. Pfister, A. Heidenreich, and I. Heidegger declare that they have no competing interests.
Open Access
This article is distributed under the terms of the Creative Commons Attribution 4.0 International License (
http://​creativecommons.​org/​licenses/​by/​4.​0/​
), which permits unrestricted use, distribution, and reproduction in any medium, provided you give appropriate credit to the original author(s) and the source, provide a link to the Creative Commons license, and indicate if changes were made.