01.06.2016 | review | Ausgabe 2/2016 Open Access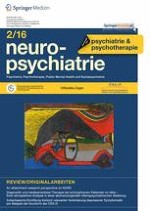 An attachment research perspective on ADHD
Zeitschrift:
Autoren:

PhD Ruediger Kissgen, PhD Sebastian Franke
Attachment theory and attachment research
ADHD
Since its introduction as a diagnosis, attention deficit hyperactivity disorder (ADHD) has increasingly become a term used to describe a wide range of behavior problems in children. There is considerable disagreement both with regard to the etiology as well as suitable therapy for ADHD [
34
]. The ICD-10 [
35
] differentiates between simple disturbance of activity and attention (F90.0) and hyperkinetic conduct disorders (F90.1), as well as other or unspecified hyperkinetic disorders (F90.8 and F90.9). This division is based on the main characteristics of inattention, hyperactivity and impulsivity and assigns a separate category to children that display a particularly conspicuous interaction with their social environment in an attempt to take the heterogeneous aspects of this disorder into account. The further development of DSM-5 [
36
] included only a few new features of this disorder compared to DSM-IV TR [
37
]. While the symptom categories inattention and hyperactivity/impulsivity remain, the various subtypes are conceptualized as presentations whose expressions may change during the lifespan. Moreover, ADHD can be diagnosed in adulthood and is placed in the category of neurodevelopmental disorders to reflect correlates between brain development and ADHD.
Overall, this clearly demonstrates that a plethora of different symptom types is combined with each other in the entire picture of ADHD, and that the expressions of this disorder must be considered in a differentiated manner. Although the new features in DSM-5 consider a multifactorial genesis of ADHD, they still do not allow for any new assumptions about a specific etiology. Over the last decades, research has increased which, alongside neuropsychological and cognitive deficits, could also identify factors in the family context of the affected child [
38
,
39
]. In the course of this work, some researchers have theoretically dealt with the connection between attachment and ADHD [
40
–
43
] and found parallels between the core symptoms of ADHD and findings from attachment research. Below we will outline main results of the studies that tried to merge these research lines as well as recommendations for future research.
Attachment research relating to ADHD
It can be assumed that from their first years, children with ADHD present a major challenge to everyday family life. Their inattention, their hyperactivity and their impulsivity impede the primary caregivers in their approach to these children's signals. Since the caregivers sensitivity in dealing with the childrens signals represents the basis of forming a secure attachment, the requirements for the development of a secure attachment appear to be less favorable than in children in unaffected control groups.
Conclusion
Even though individual research projects were able to underpin some theoretical considerations empirically in recent years – mostly within the connection of disorganized attachment and ADHD – results are very heterogeneous. Hence, the link between attachment and ADHD is still not demonstrated. One weakness of previous research on this topic lies in the general consideration of the construct ADHD. The various phenotypic expressions of this disorder are not taken into account, but are rather conceived as a global clinical construct. The resultant heterogeneity of the specific samples allows only poorly differentiated and inconsistent assertions about the relationship to other constructs. Instead, individual aspects of the disorder should first be considered separately in order to link specific symptom classes with respective constructs.
In the above mentioned paper, Erdman [
40
] suggests a framework that views children's behaviors as a contextual response to parental attachment, stressing the importance of the function that a behavior has in a certain context. That perspective does not doubt the existence of ADHD, but it assumes that it is frequently misdiagnosed and that a child might as well display ADHD-like behaviors in order to maintain a specific parent-child relationship with the aim to keep it organized. Erdman argues that these behaviors might then be interpreted as being a sign of ADHD. This argument for one supports the differentiated examination of ADHD and its specific behaviors. Furthermore, it highlights the role of the context, specifically the parents' behaviors in developing certain constellations of interaction that can be viewed as detrimental for the child.
One important variable that might affect the specific parent-child relationship is the parents' own attachment representation. As discussed above, these representations play a major role in the intergenerational transmission of attachment. The contextual model of van IJzendoorn and Bakermans-Kranenburg [
25
] may identify the aspects contributing to the attachment-relevant experiences of a child. In the model, (1) early childhood experiences of parents with their own parents within the family context precede (2) further attachment experiences during childhood in other contexts. Based on these experiences IWMs of attachment are constructed which during adolescence lead to a dominant IWM of attachment, figuring as (3) attachment representation. The adult attachment representation and (4) its social context influence (5) parenting behavior. Ultimately the parenting behavior and the (6) specific child characteristics will implement the child's future attachment experiences. A first study fitting parts of this model focused on attachment representations in mothers of children with ADHD. Kissgen et al. [
64
] showed that the prevalence of maternal insecure and unresolved attachment representations increases with the degree of severity of children's ADHD symptoms.
According to these preliminary considerations, from an attachment perspective, there are two major aspects research should focus on. One should address the role of transgenerational transmission of attachment in the development of ADHD in the child. The second one should investigate whether attachment representations of children with ADHD differ from those of children without ADHD. If that is the case, the specific behaviors within the construct of ADHD that contribute to that difference need to be identified, since some behaviors might be the adequate contextual response to an impaired relationship with the parent. In doing so, it is important to keep possible mediating and moderating factors in mind that might also account for the relation between these two constructs. All these considerations are of great importance in the investigation of ADHD and attachment and can help to provide a more detailed and differentiated perspective on the extent of their mutual influence.
Conflict of interest
R. Kissgen and S. Franke state that there are no conflicts of interest.
Open Access
This article is distributed under the terms of the Creative Commons Attribution 4.0 International License (http://creativecommons.org/licenses/by/4.0/), which permits unrestricted use, distribution, and reproduction in any medium, provided you give appropriate credit to the original author(s) and the source, provide a link to the Creative Commons license, and indicate if changes were made.