01.11.2012 | case report | Ausgabe 5/2012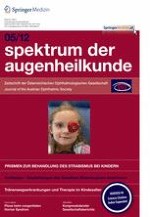 Adult onset of moderate ptosis in unrecognized congenital Horner syndrome
Zeitschrift:
Autoren:

MD Mladen Lesin, PhD, MD Ljubo Znaor, Prof. Susanne Binder
Summary
Purpose
Congenital Horner syndrome (CHS) is an ocular condition present since birth as the consequence of birth trauma and brachial plexus injury (interruption of oculosympathetic nerve pathway). Typical clinical signs include heterochromia iridis, miosis, and ptosis. The purpose of this study is to discuss the necessity of imaging methods in diagnosing and appropriate treatment of unrecognized CHS in adults.
Design
Retrospective observational case report.
Case
Herein, we present a case of previously unrecognized CHS in a 39-year-old patient with moderate monolateral ptosis. Clinical examination showed besides moderate monolateral ptosis, miosis and heterochromia iridis. Imaging examinations excluded compression etiology of the pathologic condition and the patient was diagnosed to be affected by CHS. Subsequently, the patient was successfully treated with Fasanella–Servat operation. He had a tarsal plate height more than 10 mm and gained long-lasting satisfactory functional and esthetic outcome.
Conclusion
In cases of adult monolateral ptosis, we have to suspect on unrecognized CHS, where good clinical history (history of delivery injury, comparison of old patient's photographs) may be determinant in posing the correct diagnosis without subjecting the patient to many invasive and expensive diagnostic procedures. Further, this case confirms that Fasanella–Servat operation may give good functional and esthetic results even in adults with ptosis of different severity.