01.02.2017 | case report | Ausgabe 1/2017 Open Access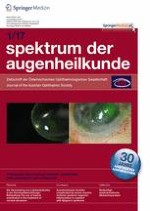 A serious adverse surgical event
Management of suspected HSV-1 keratitis in a donor cornea
Zeitschrift:
Autoren:

Rebecca Kaye, Bernhard Steger, Jern Y. Chen, Vito Romano
Summary
Purpose
To describe the management of a serious adverse event in a patient undergoing penetrating keratoplasty (PK).
Case report
A 68-year-old man underwent PK for an aphakic bullous keratopathy following previous complicated cataract surgery. He had no past history of herpetic disease. Storage of the corneoscleral disc in the transport bottle precluded microscopic examination. After placement of the trephined donor cornea on the open eye of the recipient, a large dendritiform geographic ulcer was noted on the donor cornea. A replacement cornea was used after changing potentially contaminated instruments. Intravenous antiviral treatment was commenced intraoperatively to reduce the risk of infection to the central nervous system. Postoperatively, oral and topical antiviral treatment was commenced and 6 months following surgery the patient developed a geographic corneal ulcer at the graft host interface.
Conclusion
Containers to transport corneoscleral discs should enable microscopic examination by the surgeon prior to use. High dose systemic antivirals may reduce the risk of herpetic disease involving the posterior segment of the eye and neuroretina in the aphakic eye and spread to the central nervous system.