12.04.2018 | main topic | Ausgabe 11-12/2018 Open Access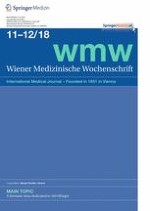 A scientific approach to the reform of a medical curriculum
A personal account of the Vienna experience
Zeitschrift:
Autor:

Richard Marz
Wichtige Hinweise
The connection of Adi Ellinger to this story is manifold: he was a comrade-in-arms in the teaching reform project "HyperCell", an early attempt to introduce integrated teaching and learning as well as e‑learning into the faculty [
1
–
3
]. He volunteered to be the first "block coordinator" before the new curriculum as a whole was even approved and he has remained a committed yet critical supporter of the reform process to this day. The "preclinical learning centre", six seminar rooms for 16 students each, suited for various types of small-group learning as well as e‑learning, was his brainchild, which he guided from the planning stage through to completion [
4
,
5
].
But few such innovative approaches were looked at seriously in Austria. Curricular changes were largely limited to introducing new subjects of instruction together with the corresponding oral examinations, though clinical training was also expanded. The overall structure of the curriculum did not change during the 20th century. It was based on the sequential contribution of individual departments: three phases going from pre-clinical subjects via bridging subjects such as pathology and pharmacology to clinical subjects. The examination system left much to students' self-motivation: they were permitted to stand for an examination when they felt they were ready, with no penalty for postponing the day selected. With 23 examinations to pass to complete the requirements for an MD, by the 1990s what on paper was a 6-year curriculum took the successful student on average more than 9 years to complete. In addition, there was a high dropout rate at all stages of the curriculum.
The UniStG assigned all decision-making authority with regard to the curriculum to the "Studienkommission (StuKo)", the directly elected curriculum commission for each field of study, rather than the faculty council. The StuKo for human medicine consisted of 12 members with 4 representatives from each of the main stakeholders (full professors, Mittelbau and students), whereas the former faculty council had more than 100 members in which full professors had 50% of the votes. The small size of the StuKo made it possible to have in-depth group discussions before decisions were taken. All curriculum-reform decisions, with only one exception, were unanimous!