30.04.2019 | case report | Ausgabe 13-14/2019 Open Access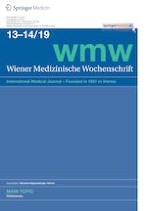 A rare case of cancer-to-cancer metastasis: breast cancer to renal cell cancer
Case report and review of literature
Zeitschrift:
Autoren:

MD Ioana-Claudia Lakovschek, MD Prof. Edgar Petru, MD Marion J. Pollheimer, MD Prof. Manfred Ratschek, MD Prof. Herbert Augustin, MD Prof. Vesna Bjelic-Radisic
Wichtige Hinweise
Publisher's Note
Springer Nature remains neutral with regard to jurisdictional claims in published maps and institutional affiliations.
Summary
Background
Cancer-to-cancer metastasis is very rare with less than 50 cases described in literature. This article reports a case of breast cancer with synchronous metastasis to clear cell renal cell cancer.
Case description
A 79-year-old woman was diagnosed with a bilateral breast carcinoma. Sonographic staging investigation of the abdomen revealed a 6 cm wide expansion of the right kidney. Bilateral mastectomy and nephrectomy of the right kidney was performed. The histology revealed a clear cell renal cell carcinoma and in the center of the tumor a 0.5 cm metastasis of the breast cancer. The patient's comorbidities and performance status precluded chemotherapy und she received palliative radiotherapy, targeted monoclonal antibody therapy and antihormonal treatment.
Conclusions
Even if cancer-to-cancer metastasis is a very rare phenomenon, the simultaneous or consecutive finding of a renal tumor in women with breast cancer should be carefully evaluated.