06.11.2017 | original scientific paper | Ausgabe 6/2017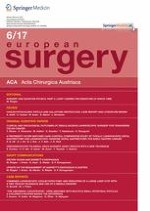 A propensity score matched case-control comparative study of totally laparoscopic distal gastrectomy and laparoscopic-assisted distal gastrectomy for early gastric cancer
Zeitschrift:
Autoren:

MD Sung Don Oh, MD, PhD Sung Jin Oh, MD, PhD Byoung Jo Suh, MD, PhD Jin Yong Shin, MD, PhD Jong Kwon Park
Summary
Background
Intracorporeal anastomosis remains a difficult procedure. This study was designed to clarify the advantage of totally laparoscopic distal gastrectomy (TLDG) compared with laparoscopic-assisted distal gastrectomy (LADG) regarding short-term surgical outcomes.
Methods
We retrospectively identified 273 patients who were preoperatively diagnosed with early gastric cancer and underwent LADG or TLDG between March 2010 and May 2016. A propensity score matching analysis was used to create patient groups matched for sex, age, body mass index, previous abdominal surgery history, and American Society of Anesthesiologist score.
Results
The TLDG group showed statistically shorter operative time (250.9 ± 4.6 min vs. 281.8 ± 7.3 min,
p
= 0.000), lower estimated blood loss (77.6 ± 3.3 ml vs. 122.4 ± 6.2 ml,
p
= 0.000), and shorter time to first flatus after surgery (2.9 ± 0.1 days vs. 3.2 ± 0.1 days,
p
= 0.001) compared with the LADG group. However, there was no specific superiority in terms of the inflammatory profiles on postoperative days 1, 2, 4, and 7 between the two groups. Complication rates were also similar in the two groups (13.3% LADG vs. 6.1% TLDG).
Conclusion
This study shows that TLDG for early gastric cancer is a safe surgical procedure and superior in cosmesis compared with LADG.