12.06.2020 | original article | Ausgabe 15-16/2020 Open Access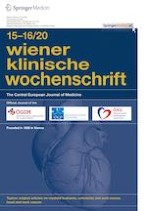 A multicenter retrospective evaluation of Chronic Myeloid Leukemia (CML) therapy in Austria assessing the impact of early treatment response on patient outcomes in a real-life setting
R-EFECT study
Zeitschrift:
Autoren:

Prof. Dr. Andreas L. Petzer, Wolfgang R. Sperr, Veronika Buxhofer-Ausch, Thamer Sliwa, Stefan Schmidt, Richard Greil, Albert Wölfler, Petra Pichler, Clemens Dormann, Sonja Burgstaller, Christoph Tinchon, Alois Lang, Florian Goebel, Shanow Uthman, Niklas Muenchmeier, Peter Valent
Wichtige Hinweise
Publisher's Note
Springer Nature remains neutral with regard to jurisdictional claims in published maps and institutional affiliations.
Summary
Background
Several clinical trials in chronic phase (CP) chronic myeloid leukemia (CML) showed that early response to tyrosine kinase inhibitor (TKI) treatment results in an improved long-term survival and progression-free survival. This study assessed whether patients achieving early treatment response (ETR; partial cytogenetic response or BCR-ABL1 mRNA ≤10% at 3 months) in daily practice also have a long-term survival benefit.
Methods
The
R
etrospective
E
valuation o
f E
arly response in
C
ML for long-term
T
reatment outcome (R-EFECT), a multicenter, retrospective chart review, documented patients with newly diagnosed CML-CP starting first-line TKI therapy in routine clinical practice. The primary aim was to assess the 5‑year overall survival rate.
Results
Of the 211 patients from 12 centers across Austria (January 2004–May 2010), 176 (median age, 56 years) were included in the analysis. All patients received first-line therapy with imatinib. Overall, 136 patients (77.3%) achieved ETR (ETR+ group), whereas 40 (22.7%) did not reach ETR (ETR− group). The ETR+ group had higher 5‑year overall survival (92.5% vs. 77.5%,
P
 = 0.018) and progression-free survival (95.6% vs. 87.5%,
P
 = 0.06) rates compared with the ETR− group. As expected, more patients in the ETR− group were switched to another TKI. At the last contact, 120 patients were still on imatinib and 44 had switched to another TKI (25 to nilotinib, 15 to dasatinib, and 4 to bosutinib).
Conclusion
The data are in line with randomized trials demonstrating that ETR is associated with improved survival and thus confirmed these results in patients treated in daily clinical routine.