20.03.2020 | main topic | Ausgabe 9-10/2020 Open Access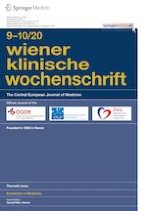 A critical examination of the main premises of Traditional Chinese Medicine
Zeitschrift:
Autoren:

Michael Eigenschink, Lukas Dearing, Tom E. Dablander, Julian Maier, Harald H. Sitte
Wichtige Hinweise
Publisher's Note
Springer Nature remains neutral with regard to jurisdictional claims in published maps and institutional affiliations.
Introduction
The main principles of TCM have evolved over thousands of years and TCM practitioners also refer to this vast and longstanding experience as a seal of trust. TCM's fundament is based on its holistic view, the principle of harmony, individuality, and the prevention and treatment of disease. Following these principles, TCM uses unique diagnostic and therapeutic techniques, such as acupuncture, Tai Chi and Qi Gong as well as a plethora of plant and animal derivatives to restore health and prevent illness.
We ascertained evidence in the field of TCM on the basis of the following topics: (i) TCM publications, (ii) TCM diagnostics, (iii) meridians and acupuncture, and (iv) TCM remedies. It was our intended goal to examine the most obvious and publicly visible ones.
Quantitative and qualitative analysis of TCM publications
However, we are aware of the fact that even though our approach was predefined, assigning the points still remains subjective. Because of this limitation the data provided cannot be viewed as a definite, objective examination.
Meridians: more than a philosophical concept?
Acupuncture—about popular usage and questionable effect sizes
Taking the aforementioned considerations into account, acupuncture shows some effect in the treatment of diseases like migraine, lower back pain and allergic rhinitis; however, there is no conclusive scientific basis for its mode of action. Moreover, due to the problem of control group design and the resulting heterogeneity of primary studies included in systematic reviews and meta-analyses, reported effect sizes must be considered with care.
The need for high quality data obtained by carefully conducted studies does not only concern therapeutic approaches like acupuncture. In order to provide an adequate therapy, diagnostic methods have to be thoroughly tested and evaluated too.
TCM diagnostics—first, check your own pulse
In order to provide information about the clinical effectiveness of a diagnostic procedure, scientists usually evaluate its inter-rater and intra-rater reliability. Whilst inter-rater reliability refers to the objectivity of a diagnostic method, intra-rater reliability quantifies its reproducibility.
Research regarding TCM diagnostic methods is still in its infancy. Consequently, the lack of high-quality literature posed a challenge to the evaluation; however, it was apparent that authors who assessed the objectivity and reproducibility of TCM diagnostics unanimously agreed that the principles underlying these examinations need to be standardized in order to fit the modern understanding of medicine. Subsequently, the inclusion of metric data derived from objective biochemical markers is imperative. Moreover, parameters, such as sensitivity, specificity as well as positive and negative predictive values, ought to be evaluated in order to objectify TCM diagnostics and be able to compare their efficacy to western diagnostic methods. Following these thoughts, TCM diagnoses would first have to be objectively and clearly defined.
TCM therapeutics—forgotten treasure or Pandora's Box?
The Nobel Prize for the discovery of artemisinin by You You Tu, a Nobel prize for TCM?
Given these obvious challenges concerning TCM medicinal products and the lack of standardization, high-quality randomized controlled trials and even basic pharmacological characterization, other movements should be emphasized, which may be considered in a more positive light. You You Tu, the discovery of artemisinin and the subsequent Nobel Prize may serve as a perfect manifestation of how eastern and western medicine and natural science systems may converge. The entire history of how artemisinin was discovered can be read in the own words of the Nobel Laureate [
6
]. The important fact behind the discovery was that the search for the new antimalaria drug started from a herbal knowledge base established by the Chinese ancestors; however, it needs to be highlighted that a drug discovery process was applied and successfully completed: the compound, isolated from an extract of the herb Qinghao, used for more than 2000 years against malaria, was thoroughly tested in animal models, clinical trials and chemically characterized with all necessary structure activity/efficacy studies [
6
]. Importantly, the initial screening failed to produce positive results. Success was only achieved after taking the historically described procedure for the preparation of Qinghao into account, which yielded an effective and ancient treatment commodity for Plasmodium infections for centuries. The promising observations made in these initial studies received highly positive and enthusiastic response on a global scale. This success was the result of an opening of Chinese research to western natural scientific approaches, materialized in form of the Institute of Chinese Materia Medica which—since 1983—was the designated place "for professionals with a modern (western) medicine training background" [
6
]. Consequently, You You Tu received the Lasker DeBakey Clinical Research Award in 2011 and the Nobel Prize for Medicine or Physiology in 2015 for her outstanding contribution as a scientist. It is also safe to conclude that the discovery of artemisinin and its derivatives can be viewed as a highlight of pharmacognosy, pharmacy and pharmacology; however, some authors of TCM literature utilized this breakthrough discovery to justify their own, in part non-scientific argumentation: "The award of the 2015 Nobel Prize in Physiology or Medicine […] brought the greatest pride and optimism to the natural product community worldwide. […], we are surely entering a New Golden Age of natural products drug discovery" [
107
]. This statement can only be hoped to be a positive indicator for future directions and that the example of the artemisinin process is exemplary for follow-up studies and developments. Meanwhile, artemisinin and its derivatives have also been found to possess anticancer activity, meaning they are on the stairways to the clinics also in areas other than mosquito-borne infectious diseases [
108
]. Furthermore, TCM has also been explored in rheumatoid arthritis and some effects were considered to be worthy of further exploration [
109
]: the Chinese herb formulation Du-Huo-Ji-Sheng-Tang was found to improve lymphatic dysfunction in a transgenic mouse model over-expressing the abundant inflammatory cytokine TNF‑ɑ [
110
]. Ferulic acid has subsequently been determined as its most active ingredient and shown promising pharmacodynamic effects in lymph vessel drainage and contraction [
111
].
Conclusion
The utilization of TCM is based on a vast history dating back thousands of years, thereby justifying the word "traditional" in its title. It is well known in central Europe and its usage, even though hardly backed by scientific studies, enjoys general acceptance amongst the population
17
. This review aimed on examining a number of important areas of TCM covering Qi, meridians, acupuncture, pulse and tongue diagnostics as well as herbal remedies. Furthermore, the publication frequency of TCM literature and the argumentative patterns found in the top cited publications were analyzed. It was observed, that most publications used fallacious descriptions or expressions to substantiate their argumentation. Moreover, it was impossible to determine a scientifically justified basis for the existence of Qi and the meridians; hence, it is difficult to reconcile how acupuncture works as it is based entirely on finding the right acupuncture point; however, there are measurable improvements albeit the evidence can only be graded as mild. It has been speculated that nervous stimulation by short-term pain induction or psychological interference may be the underlying reason for acupuncture effects to occur. Furthermore, an exploration of Tai Chi in comparison to other mobility programs in Parkinson's disease and other disorders has more recently drawn considerable attention [
112
]. These TCM-based interventions apparently improve the patient's ability to move in a reproducible way; however, this cannot be ascertained in many other areas of TCM: The standardization of herbal remedies is difficult to achieve. Moreover, the usage of questionable ingredients deriving of species on the brink to extinction, and the high variability of diagnostic procedures in TCM do not consolidate faith [
70
]. The transition to science-based diagnostic methods also largely depends on the ability to implement scientific principles, as provided in GSP guidelines, as fundamental parts in the evaluation of diagnostic tools. Furthermore, with TCM diagnosis criteria getting implemented in the 11th revision of the
International Classification of Diseases
which will be actively used by clinicians around the world by January 2022, the safety and efficacy of TCM therapeutics has to be put to the test
18
[
13
,
14
]. It remains unclear whether this development, which adds traditional ethnomedicine to the armamentarium of clinicians, can be justified over a longer perspective [
13
]. Furthermore, it needs to be clarified whether social security and healthcare systems will be able to financially cope with the newly implemented "traditions".
Acknowledgements
We are grateful to Luise Bellach, Cora Dearing and Edzard Ernst for comments on the manuscript.
Conflict of interest
M. Eigenschink, L. Dearing, T.E. Dablander, J. Maier and H.H. Sitte declare that they have no competing interests.
Open Access
This article is licensed under a Creative Commons Attribution 4.0 International License, which permits use, sharing, adaptation, distribution and reproduction in any medium or format, as long as you give appropriate credit to the original author(s) and the source, provide a link to the Creative Commons licence, and indicate if changes were made. The images or other third party material in this article are included in the article's Creative Commons licence, unless indicated otherwise in a credit line to the material. If material is not included in the article's Creative Commons licence and your intended use is not permitted by statutory regulation or exceeds the permitted use, you will need to obtain permission directly from the copyright holder. To view a copy of this licence, visit
http://​creativecommons.​org/​licenses/​by/​4.​0/​
.
Publisher's Note
Springer Nature remains neutral with regard to jurisdictional claims in published maps and institutional affiliations.