23.08.2018 | main topic | Ausgabe 11-12/2018 Open Access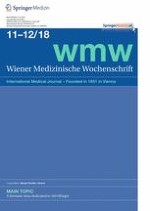 A cell's agony of choice: how to cross the Styx?
From morphological to molecular approaches to disclose its decision
Zeitschrift:
Autor:

Dr. Wilfried Bursch
Wichtige Hinweise
Due to space limits I have referred to review articles whenever possible. Therefore, I apologize to the many authors whose original publications were not cited directly.
Cell death, necrosis, apoptosis, and more: historical aspects
The occurrence of cell death under a variety of physiological and pathological conditions in multicellular organisms has been documented many times during the past 180 years [
1
–
10
]. For instance, in 1842, Carl Vogt reported on dead cells in skin of obstetrical toads (
Alytes obstricans
) [
1
]. In 1871, Virchow described the diversity of cell death as "necrosis" and "necrobiosis" [
2
]. Subsequently, cell death was reported to occur during metamorphosis of invertebrates and lower vertebrates, and during the development of mammals [
8
,
9
]. In adults, cell loss may occur according to physiological demands, e. g., in 1914, Ludwig Gräper, Royal Anatomy Breslau, published
Eine neue Anschauung über physiologische Zellausschaltung
(A new perspective on physiological cell deletion) [
3
], the morphological features of which exactly corresponded to apoptosis as defined several decades later. In developmental biology, cell death essentially was considered as a "programmed" event [
4
,
6
,
8
,
9
]. Notably, Schweichel and Merker [
11
] and Clarke [
12
] described three morphologically distinct types of cell death in the developing embryo: type I, most likely identical to apoptosis; type II is characterized by involvement of lysosomes and prominent formation of autophagic vacuoles ("autophagic cell death"); type Ill is described as occurring through disintegration of cells into fragments without involvement of the lysosomal system and without marked condensation. In vivo, cell residues undergoing apoptosis (type I) and autophagic cell death (type II) were reported to finally be phagocytosed by neighboring cells. On the other hand, in toxicology and pathology, cell death mainly was regarded as a passive, degenerative phenomenon occurring after severe damage of tissues [
2
,
5
,
6
]. It was not before the early 1970s when Farber et al.—based upon a distinct morphology of cell death along with its requirement for protein synthesis—suggested a "suicide" type of cell death in liver, intestine, and other organs induced by cytotoxic anti-cancer drugs [
10
]. The widespread occurrence and biological relevance of programmed cell death was also advocated by Kerr, Wyllie, and Currie, who in 1972 proposed a new classification of cell deletion into two broad categories: 1. apoptosis (formerly "shrinkage necrosis"), which "appears to play a complementary but opposite role to mitosis in the regulation of animal cell populations. Its morphological features suggest that it is an active, inherently programmed phenomenon, and it has been shown that it can be initiated or inhibited by a variety of environmental stimuli, both physiological and pathological" [
5
]. According to this proposal "necrosis," which often was used for all types of cell death, was re-defined and restricted to events caused by violent environmental perturbation leading to collapse of internal homeostasis [
5
].
The concept of this "apoptosis–necrosis dichotomy" initiated a controversial discussion, but eventually moved apoptosis, and in a broader sense cell death, into the focus of biomedical research. Nowadays, the scientific community has achieved consensus, considering apoptosis as an essential part of life for any multicellular organism [
13
–
16
]. Along with these research efforts, morphological and biochemical observations revealed that self-destruction of cells indeed is not confined to apoptosis as originally defined [
8
,
9
,
17
–
19
]. Nowadays, the knowledge on the cell death regulatory network is considered sufficient to switch from morphological to biochemical criteria for classification of cell death [
20
,
21
]. Consequently, the terms "accidental cell death (ACD)" and "regulated cell death (RCD)" have been suggested by the Nomenclature Committee on Cell Death (NCCD) [
20
,
21
].
1
These publications include detailed recommendations for the use of biochemical and functional criteria for cell death classification. Accordingly, RCD incl. subroutines comprise "caspase-dependent intrinsic apoptosis," "caspase-dependent extrinsic apoptosis," "necroptosis," "parathanatos," "ferroptosis," "netosis," and others; caspase-unrelated variants of RCD include "autophagic cell death" [
20
,
21
].
The present paper aims at recalling electron microscopic (EM) and cytochemical studies performed by Adi Ellinger (A. E.) on human mammary carcinoma cells in the 1990s. At that time, the apoptosis–necrosis dichotomy still dominated the interpretation of morphological and biochemical data on cell death, but A. E. added a significant contribution to recognize that cells may choose among a number of different tracks to cross the Styx.
From apoptosis morphology to the complexity of regulated cell death pathways
To summarize, there is sufficient evidence for a crosstalk between apoptosis and autophagy signaling. Cells are equipped with a number of death pathways which, like a set of building blocks, may be composed to allow a high degree of flexibility in response to death stimuli, either physiological or pathological. Thus, the eventual RCD phenotype most likely appears to depend on general biological settings such as developmental stage, epigenetic and genetic status, metabolic state, and death stimulus.
Conclusion
Multiple evolutionarily conserved suicide pathways are available in higher eukaryotic cells; ancient molecular cell death mechanisms have been improved by acquiring complex sets of interacting "death" and "survival" molecules that allow a higher eukaryotic cell to finely tune its life–death decision. Early observations on the diversity of cell death phenomena were mainly based upon morphology, associated with its inherent limitations to establishing causative relationships among subcellular processes. The progress in biochemical and molecular techniques resulted in a tremendous gain in knowledge on the regulatory network of cell death and made functional and molecular criteria for its refined classification available. Consequently, to date, experimental approaches to tackle pending issues can be designed more target oriented. For instance, as to cancer metabolism, the relationship between the rate of autophagosomal protein degradation (autophagic flux) in cancer cells and their susceptibility to the death trigger may deserve attention. In this context, fine structural preservation along with high temporal resolution constitute key elements to elucidate the dynamics of the interaction between cellular compartments involved in cell death signaling and execution. A challenging task for biomedical research will be to understand epigenetic control of cell death. For the time being, I would like to come back to the specific aim of my present contribution, namely to commemorate Adi Ellinger's contribution to cell death research. A. E., based upon electron microscopy and cytochemistry, provided well-founded arguments to challenge the apoptosis–necrosis dichotomy that was still predominant in the 1990s, eventually leading to a broader view of cell death phenomena.
Acknowledgements
The studies reviewed herein comprise research over many years in the 1980/90s, during which excellent technical assistance was provided by B. Bublava, M. Eisenbauer, C. Unger at the Institute of Cancer Research and J. Stockinger, E. Scherzer at Center for Anatomy and Cell Biology, Medical University Vienna, all gratefully acknowledged.
Funding
These studies were supported by grants from the
Anton-Dreher-Gedächtnisschenkung für medizinische Forschung
, the Austrian
Herzfelder'sche Familienstiftung
as well as the Institute of Cancer Research, University of Vienna.
Conflict of interest
W. Bursch declares that he has no competing interests.
Open Access
This article is distributed under the terms of the Creative Commons Attribution 4.0 International License (
http://​creativecommons.​org/​licenses/​by/​4.​0/​
), which permits unrestricted use, distribution, and reproduction in any medium, provided you give appropriate credit to the original author(s) and the source, provide a link to the Creative Commons license, and indicate if changes were made.